Get lost in a good book, and read about the travels of these protagonists.
Let's Get Lost – Adi Alsaid (eBook)

Four teens across the country have only one thing in common: a girl named Leila. She crashes into their lives in her absurdly red car at the moment they need someone the most.

Hudson, Bree, Elliot and Sonia find a friend in Leila. And when Leila leaves them, their lives are forever changed. But it is during Leila's own 4,268-mile journey that she discovers the most important truth—sometimes, what you need most is right where you started. And maybe the only way to find what you're looking for is to get lost along the way.
Mosquitoland – David Arnold (eBook)

After the sudden collapse of her family, Mim Malone is dragged from her home in northern Ohio to the "wastelands" of Mississippi, where she lives in a medicated milieu with her dad and new stepmom. Before the dust has a chance to settle, she learns her mother is sick back in Cleveland.

So she ditches her new life and hops aboard a northbound Greyhound bus to her real home and her real mother, meeting a quirky cast of fellow travelers along the way. But when her thousand-mile journey takes a few turns she could never see coming, Mim must confront her own demons, redefining her notions of love, loyalty, and what it means to be sane.
The Distance From A to Z – Natalie Blitt (eBook)

Seventeen-year-old Abby has only one goal for her summer: to make sure she is fluent in French—well, that, and to get as far away from baseball and her Cubs-obsessed family as possible. A summer of culture and language, with no sports in sight.

That turns out to be impossible, though, because her French partner is the exact kind of boy she was hoping to avoid. Eight weeks. 120 hours of class. 80 hours of conversation practice with someone who seems to wear baseball caps and jerseys every day.

But Zeke in French is a different person than Zeke in English. And Abby can't help but fall for him, hard. As Abby begins to suspect that Zeke is hiding something, she has to decide if bridging the gap between who she is and who he is is worth the risk.
Stolen – Lucy Christopher

Gemma, 16, is on layover at Bangkok Airport, en route with her parents to a vacation in Vietnam. She steps away for just a second, to get a cup of coffee. Ty—rugged, tan, too old, oddly familiar—pays for Gemma's drink. And drugs it. They talk. Their hands touch. And before Gemma knows what's happening, Ty takes her. Steals her away. The unknowing object of a long obsession, Gemma has been kidnapped by her stalker and brought to the desolate Australian Outback. STOLEN is her gripping story of survival, of how she has to come to terms with her living nightmare—or die trying to fight it.
How To Ruin a Summer Vacation – Simone Elkeles (eBook)

How To Ruin a Summer Vacation Moshav? What's a moshav? Is it "shopping mall" in Hebrew? I mean, from what Jessica was telling me, Israeli stores have the latest fashions from Europe. That black dress Jessica has is really awesome. I know I'd be selling out if I go to a mall with Ron (my biological father), but I keep thinking about all the great stuff I could bring back home.

Unfortunately for 16-year-old Amy Nelson, "moshav" is not Hebrew for "shopping mall." Not even close. Think goats, not Gucci. Going to Israel with her estranged Israeli father is the last thing Amy wants to do this summer. She's got a serious grudge against her dad for showing up so rarely in her life. Now he's dragging her to a war zone to meet a family she's never known, where she'll probably be drafted into the army. At the very least, she'll be stuck in a house with no AC and only one bathroom for seven people all summer—no best friend, no boyfriend, no shopping, no cell phone… Goodbye pride—hello Israel.
Just One Day – Gayle Forman

Allyson Healey's life is exactly like her suitcase—packed, planned, ordered. Then on the last day of her three-week post-graduation European tour, she meets Willem. A free-spirited, roving actor, Willem is everything she's not, and when he invites her to abandon her plans and come to Paris with him, Allyson says yes. This uncharacteristic decision leads to a day of risk and romance, liberation and intimacy: 24 hours that will transform Allyson's life.
The Summer I Turned Pretty – Jenny Han

Belly measures her life in summers. Everything good, everything magical happens between the months of June and August. Winters are simply a time to count the weeks until the next summer, a place away from the beach house, away from Susannah, and most importantly, away from Jeremiah and Conrad. They are the boys that Belly has known since her very first summer — they have been her brother figures, her crushes, and everything in between. But one summer, one wonderful and terrible summer, the more everything changes, the more it all ends up just the way it should have been all along.
13 Little Blue Envelopes – Maureen Johnson

When Ginny receives thirteen little blue envelopes and instructions to buy a plane ticket to London, she knows something exciting is going to happen. What Ginny doesn't know is that she will have the adventure of her life and it will change her in more ways than one. Life and love are waiting for her across the Atlantic, and the thirteen little blue envelopes are the key to finding them in this funny, romantic, heartbreaking novel.
There You'll Find Me – Jenny Jones

Finley Sinclair is not your typical eighteen-year-old. She's witty, tough, and driven. With an upcoming interview at the Manhattan music conservatory, Finley needs to finish composing her audition piece. But her creativity disappeared with the death of her older brother, Will.
She decides to take a break and study abroad, following Will's travel journal to Ireland. Her brother felt closest to God there, and she hopes to find peace about his death.
Beckett Rush, teen heartthrob and Hollywood bad boy, is flying to Ireland to finish filming his latest vampire movie. On the flight, he bumps into Finley. She's the one girl who seems immune to his charm. Undeterred, Beckett convinces her to be his assistant in exchange for his help as a tour guide.

Once in Ireland, Finley starts to break down. The loss of her brother and the pressure of school, her impending audition, and whatever is happening between her and Beckett, leads her to a new and dangerous vice. When is God going to show up for her in this emerald paradise?

Then she experiences something that radically changes her perspective on life. Could it be God convincing her that everything she's been looking for has been with her all along?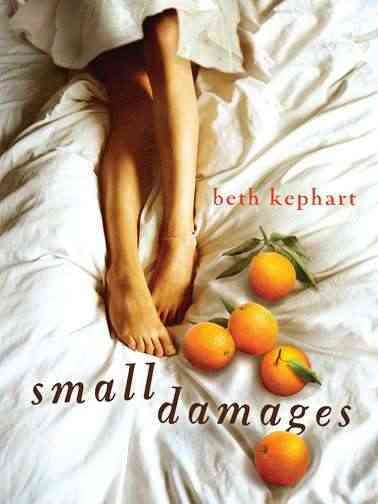 Small Damages – Beth Kephart

It's senior year, and while Kenzie should be looking forward to prom and starting college in the fall, she discovers she's pregnant. Her determination to keep her baby is something her boyfriend and mother do not understand. So she is sent to Spain, where she will live out her pregnancy, and her baby will be adopted by a Spanish couple. No one will ever know.

Alone and resentful in a foreign country, Kenzie is at first sullen and difficult. But as she gets to know Estela, the stubborn old cook, and Esteban, the mysterious young man who cares for the horses, she begins to open her eyes, and her heart, to the beauty that is all around her, and inside her. Kenzie realizes she has some serious choices to make–choices about life, love, and home.
Love and Other Train Wrecks – Leah Konen

Noah is a hopeless romantic. He's traveling home for one last chance with his first love, and he needs a miracle to win her back. Ammy doesn't believe in true love—just look at her parents. If there's one thing she's learned about love in the last year, it's that it ends.
That is, until one winter night when Noah and Ammy find themselves in the same Amtrak car heading to Upstate New York. After a train-wreck first impression between the two of them, the Amtrak train suddenly breaks down—in the middle of a snowstorm.
Desperate to make it to their destinations, Noah and Ammy have no other option but to travel together. What starts off as a minor detour turns into the journey of a lifetime, but come morning their adventure takes an unexpected turn for the worst.

Can one night can really change how they feel about love…and the course of their lives forever?
Up To This Pointe – Jennifer Longo (eBook)

Harper Scott is a dancer. She and her best friend, Kate, have one goal: becoming professional ballerinas. And Harper won't let anything—or anyone—get in the way of The Plan, not even the boy she and Kate are both drawn to.

Harper is a Scott. She's related to Robert Falcon Scott, the explorer who died racing Amundsen and Shackleton to the South Pole. Amundsen won because he had a plan, and Harper has always followed his model. So when Harper's life takes an unexpected turn, she finagles (read: lies) her way to the icy dark of McMurdo Station . . . in Antarctica. Extreme, but somehow fitting—apparently she has always been in the dark, dancing on ice this whole time. And no one warned her. Not her family, not her best friend, not even the boy who has somehow found a way into her heart. It will take a visit from Shackleton's ghost–the explorer who didn't make it to the South Pole, but who got all of his men out alive–to teach Harper that success isn't always what's important, sometimes it's more important to learn how to fail successfully.
Meant To Be – Lauren Morrill

This spring break, Julia's rules are about to get defenestrated (SAT word: to be thrown from a window) when she's partnered with her personal nemesis, class-clown Jason, on a school trip to London. After one wild party, Julia starts receiving romantic texts . . . from an unknown number! Jason promises to help discover the identity of her mysterious new suitor if she agrees to break a few rules along the way. And thus begins a wild goose chase through London, leading Julia closer and closer to the biggest surprise of all: true love. Because sometimes the things you least expect are the most meant to be.
Anna and the French Kiss – Stephanie Perkins

Anna can't wait for her senior year in Atlanta, where she has a good job, a loyal best friend, and a crush on the verge of becoming more. So she's not too thrilled when her father unexpectedly ships her off to boarding school in Paris – until she meets Etienne St. Clair, the perfect boy. The only problem? He's taken, and Anna might be, too, if anything comes of her crush back home. Will a year of romantic near-misses end in the French kiss Anna awaits?
Wish You Were Italian – Kristin Rae (eBook)

The summer before senior year of high school. It's supposed to be one of the biggest summers of her life, but Pippa is headed to an art program she has no interest in. The one saving grace is it's in Italy. And when the opportunity strikes, she decides to ditch the program and travel Italy accomplishing her own list of goals. Things like swimming in the Mediterranean Sea, eating a whole pizza in one sitting…and falling in love with an Italian boy!
As she explores the famous cities of Rome and Pompeii, Pippa finds herself falling for two boys: a local guy she knows is nothing but trouble and a cute American archaeology student who keeps disappearing and reappearing at the strangest moments. Will Pippa find her true love before her parents find out the truth about her summer program?
Love and Gelato – Jenna Welch

Lina is spending the summer in Tuscany, but she isn't in the mood for Italy's famous sunshine and fairy-tale landscape. She's only there because it was her mother's dying wish that she get to know her father. But what kind of father isn't around for sixteen years? All Lina wants to do is get back home.
But then Lina is given a journal that her mom had kept when she lived in Italy. Suddenly Lina's uncovering a magical world of secret romances, art, and hidden bakeries. A world that inspires Lina, along with the ever-so-charming Ren, to follow in her mother's footsteps and unearth a secret that has been kept from Lina for far too long. It's a secret that will change everything she knew about her mother, her father—and even herself.

People come to Italy for love and gelato, someone tells her, but sometimes they discover much more.