In all excitement for the spoopy season, we've learnt of some upcoming releases based on YA Thrillers. So grab some snacks, put on your comfiest clothes, and get ready for thrills aplenty.
___________________________________________________________________________________________
There's Someone Inside Your House (Netflix, October 6)
Based on the book written by Stephanie Perkins 'There's Someone Inside Your House' (Overdrive eBook format only).

Makani Young thought she'd left her dark past behind her in Hawaii, settling in with her grandmother in landlocked Nebraska. She's found new friends and has even started to fall for mysterious outsider Ollie Larsson. But her past isn't far behind.

Then, one by one, the students of Osborne Hugh begin to die in a series of gruesome murders, each with increasingly grotesque flair. As the terror grows closer and her feelings for Ollie intensify, Makani is forced to confront her own dark secrets.
___________________________________________
One Of Us Is Lying (Peacock, October 7)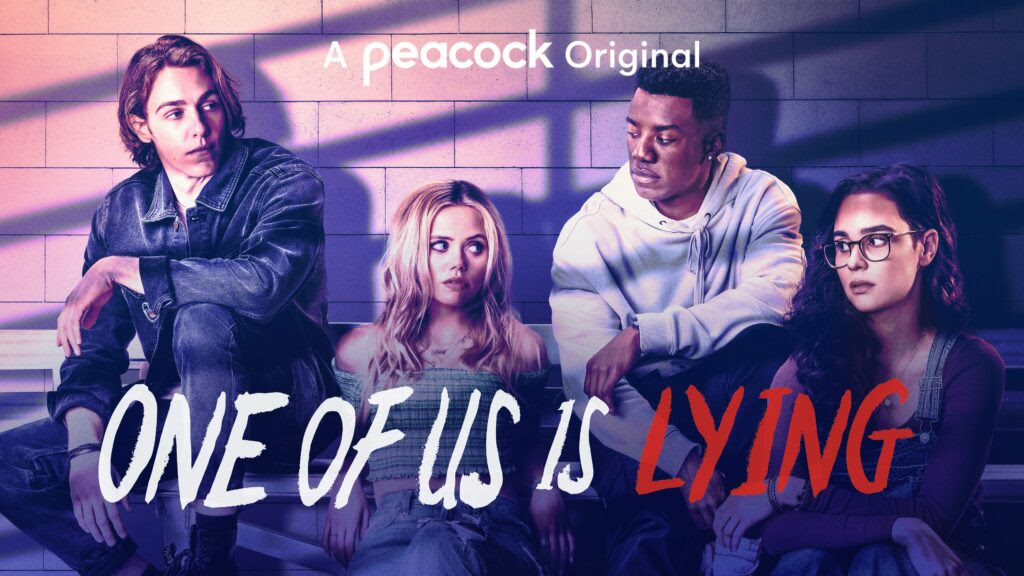 Based of the book by Karen McManus 'One Of Us Is Lying'.

On Monday afternoon, five students at Bayview High walk into detention.
Bronwyn, the brain, is Yale-bound and never breaks a rule.
Addy, the beauty, is the picture-perfect homecoming princess.
Nate, the criminal, is already on probation for dealing.
Cooper, the athlete, is the all-star baseball pitcher.
AndSimon, the outcast, is the creator of Bayview High's notorious gossip app.

Only, Simon never makes it out of that classroom. Before the end of detention, Simon's dead. And according to investigators, his death wasn't an accident. On Monday, he died. But on Tuesday, he'd planned to post juicy reveals about all four of his high-profile classmates, which makes all four of them suspects in his murder. Or are they the perfect patsies for a killer who's still on the loose?
Everyone has secrets, right? What really matters is how far you would go to protect them.
___________________________________________
I Know What You Did Last Summer (Prime, October 14)
Having been remade from the 1997 original, YA Thriller by Lois Duncan 'I Know What You Did Last Summer' (Overdrive eBook format only).

After a party, four teens are in a hit-and-run accident that results in a young boy's death. Unable to deal with the consequences, they leave the body behind and make an anonymous phone call to the police, tipping them off. The group makes a secret pact to bury the memory of that night and never speak of it again, but when one of the girls receives a note that reads "I know what you did last summer," their dark lie is unearthed. With twists and turns at every corner, they'll have to fight to stay steps ahead of a killer determined to make them pay.
___________________________________________________________________________________________
Looking for some read-a-likes to continue the fear?
Ten by Gretchen McNeil
Ten teens head to a house party at a remote island mansion off the Washington coast . . . only for them to picked off by a killer one by one.
People Like Us by Dana Mele
Kay Donovan has reinvented herself: she's a star soccer player whose group of gorgeous friends run their private school with effortless popularity and acerbic wit. When Jessica Lane's body is found in the lake, Kay's carefully constructed life begins to topple. The dead girl has left Kay a computer-coded scavenger hunt, which, as it unravels, places Kay herself is in the crosshairs of a murder investigation. And when Kay is backed into a corner, she'll do what it takes to survive.
Paper Valentine by Brenna Yovanoff
Followed everywhere by the ghost of her recently deceased best friend, Hannah investigates the serial murders of young girls in her community.
Time Bomb by Joelle Charbonneau
Six students are trapped in their school after a bomb goes off, and must fight to survive while discovering who among them is the bomber.
Hidden Pieces by Paula Stokes
After saving a man's life, Embry Woods, seventeen, is considered a hero but someone begins blackmailing her for causing his near-death, forcing her to make choices that endanger her loved ones.
This Lie Will Kill You by Chelsea Pitcher
One year ago, there was a party. At the party, someone died. Five teens each played a part… and up until now, no one has told the truth. Tonight they arrive at an isolated mansion in the hills, expecting to compete in a mystery-game contest with a $50,000 grand prize. They were each so desperate for the prize, they didn't question the odd, rather exclusive invitation until it was too late. They've been lured by a person bent on revenge. Five arrived, but not all can leave. Will the truth set them free– or will their lies destroy them all?
The Dare by Hannah Jayne (Overdrive and Axis360 eBook format only)
Blaming herself for her best friend Erica's swimming death, seventeen-year-old Bryn tries to make a fresh start by burying her memories of that awful night. But when a Twitter post from "EricaNShaw" pops up on her feed and a chilling voice mail appears on her phone, she realizes that someone isn't ready to let go of the past.
All Your Twisted Secrets by Diana Urban (Overdrive eAudiobook and Axis360 eBook format only)
Invited to a mysterious scholarship dinner, six very different high school students find themselves trapped in a room where one of them must die to save the lives of the others.
___________________________________________________________________________________________